​

Leaders need to lead digitally now. They need to digitally transform their organizations now.
​
​"Malaysian economy showing signs of recovery, projected to grow by 6.7 percent in 2021 following a contraction of 5.8 percent in 2020and to drive and sustain digital transformation initiatives, government and organizations need to urgently look at developing digital talent and especially digital leaders to ensure success in the Future of Work".
​
Yet, the gap between traditional ideas of leadership effectiveness and what it actually takes to drive sustained business performance in the digital age is becoming increasingly evident. This is where the 80/20 rule applies; digital-ready leaders need a strong foundation of traditional leadership skills and also to be able to consistently demonstrate the additional 20 percent.
​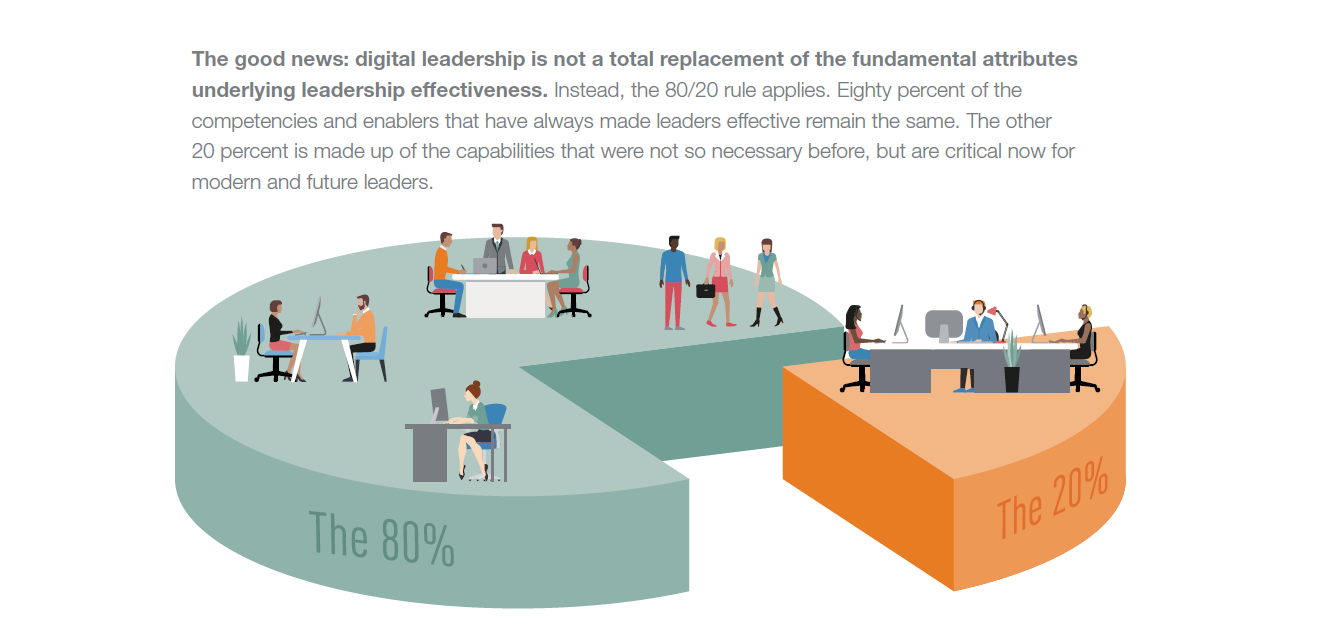 ​
​
But how ready are the leaders to skill up for the digital age?
​
To lead in the digital age, business leaders need to combine the best of human and machine intelligence to create an inclusive, tech-enabled, and forward-thinking company. Digital leaders who can map an operational framework for the new digital enterprise, effectively communicate an inspiring vision, and mobilize the digital workforce will be most likely to succeed.
​
​In today's fast-paced corporate and ever-changing digital environment, it has become imperative for everyone to adapt to it swiftly. This will be only possible if you, as a leader, are open to changes and have an agile mind. Leaders must set an example to the rest of the workforce by creating a strong culture of learning. Leaders need to set an example by learning new skills – whether that's about how to empower employees to make changes or developing their own digital capabilities – and ultimately create a learning culture where everyone recognizes that learning is an ongoing gradual process regardless of where they are on the career ladder.
​
​Leaders in the digital age must encourage a culture of measured innovation and experimentation within clear parameters, and they must learn fast. They should be prepared to quickly course correct and optimize opportunities. They must break down silos and champion seamless collaboration and exchange of information. And importantly, they must compete for scarce skills, engage talent in more varied ways than before, and champion broader thinking and learnability to fast-track upskilling and reskilling of their people.
​
​Want to get started and know more to develop a digitally-enabled and transformation-ready leadership team?
​
Click here for the full report:
​
​