​

Soft Skills for Software Developers are Game Changers
​
While staying current with the latest developments in your industry, it's also vital to know that being a developer entails far more than just writing code. In addition to mastering your technical skills, you got to hone soft skills in order to remain competitive.
​
​

Some candidates we talk to raise a valid question; Why do I need those soft skills being a developer?
​
Soft skills aren't just essential in the IT industry. They are critical to any job that involves dealing with people, whether directly or indirectly. When it comes to IT, soft skills make all the difference. Apart from writing code, developers also gather requirements for the software you are creating.
​
Developers also design the overall architecture of the product, gather documentation, and work on other related software development processes. Developers collaborate with others to coordinate different activities that have an impact on the final quality of the product they are developing.
​
As a developer you are usually part of a team. Your ability to work together with others and interact efficiently with all parties involved in the development of a project is critical. Without any level of soft skills, it would be difficult for anyone to effectively become a member of an established team and collaborate with others to complete a project.
​
​
We are seeing the emergence of a K-shaped, two-speed recovery. Some industries and people are bouncing back faster and better – those in growth sectors and with high demand skills – while others are at risk of falling further behind. But regardless of the industry, soft skills are an important and stable pillar for any career success.
​
​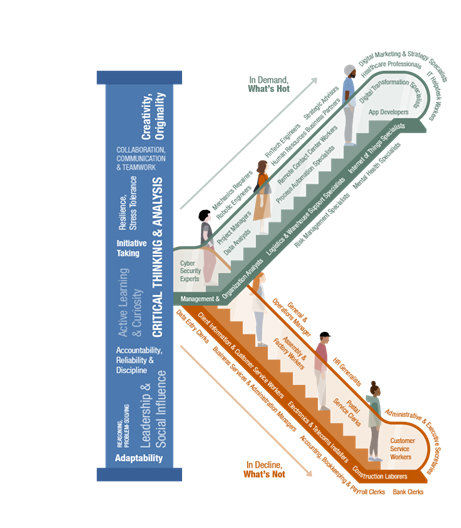 ​
​
​
​
So, which soft skills are important?
​
​

Communication skills
​
Since so many different people are involved in the software development life cycle, they must all work together seamlessly to produce a good product. It makes no difference whether you classify as an introvert or an extrovert.
​
Acquire the courage to express yourself in a constructive manner. You must be able to communicate with others, inspire them, and be dependable.
​
​
Empathy
​
​Empathy may not appear to be an extremely important skill to have when considering software development. Knowing other people, their value systems, and their psychological and personal attributes will help you when you begin thinking about it.
​
Software developers must be able to put themselves in their (future) consumers' shoes. Without which, a software program that has been meticulously designed could easily backfire because no one uses it, or at least not in that manner.
​
​As a whole, once you've figured out what they need, you'll be able to guide them on the best technology and process combination to move their organization forward. You are already demonstrating a solution-oriented type of thinking – an evergreen skill that is and will be valuable beyond 2021!
​
​
​

Problem-solving, critical thinking and creativity
​
​If you take a moment to look at development from a wider perspective – it really is about solving complex problems. From the software applications of your smartphones and all the way to that bookkeeping software your accountant still uses, it's always about solving the problems.
​
​The ones who will challenge themselves to solve difficult problems and creatively think about unconventional solutions rise as good developers. To improvise, even. Collect all the relevant information and making sure, you have a thorough understanding of all requirements to ensure what you create serves all clients' needs.
​
​
​

Working collaboratively in a team
​
​Are you able to work as part of a team? There is no getting away from working in a team as a software developer. Whether it's frontend, backend, full stack, or DevOps, every single role is a vital piece of the company's equation, and you have to get along.
​
Great team work leads to greater outcomes, even if it comes with its own set of challenges. Establish relationships. Going out for lunch or drinks with your co-workers is a great way to create trust. Bolstering these ties encourages a more positive work climate. Granted, now with COVID lockdowns it is more difficult, but have you tried a casual video call with a colleague?
​
​
​

Willingness to learn
​
​Software development evolves at a rapid pace. This implies that no software developer can pretend to have discovered everything there is to know about their field. To put it simply, any software developer would need to devote a considerable amount of time to staying current with industry innovations.
​
Employers often want to recruit candidates who are keen to learn (strong willingness to learn) and who are not afraid to make mistakes. Don't be afraid to try new things. Is there a technology you're interested in that isn't part of your company's tech stack? That's no problem! Try it out and learn more about it on your own time.
​
​
​

Admitting your mistakes – accountability
​
​To grow as a software developer, you must accept and take ownership of your mistakes. You can do so by accepting that things went wrong and find a way to fix the problem, instead of trying shove it under the carpet. Admitting an error and accepting responsibility will assist you in resolving problems in a timely manner.
​
​
​The tech skills of a software developer are required and are absolutely essential, however, soft skills are like the cherry on the cake. This post is an earnest effort to present the most useful soft skills. In this list, there might be skills that you already have within you and hopefully, this article helps uncover and grow other skills too.
​
​Also, if you want to become a successful developer in a good company with a good package but don't know where to start from, fill the form below for us to reach out to you.
​
​
​
​
Posted by:
Yogakumari Sankar- Prospect & Content Development Executive
​